Here's the cover. Keep watching here. I'm trying to get permission from the publisher to share a chapter with you (hopefully one that you'll find helpful now that you've got lots of time to explore popular culture with your kids).
"The Pop Culture Parent" Preview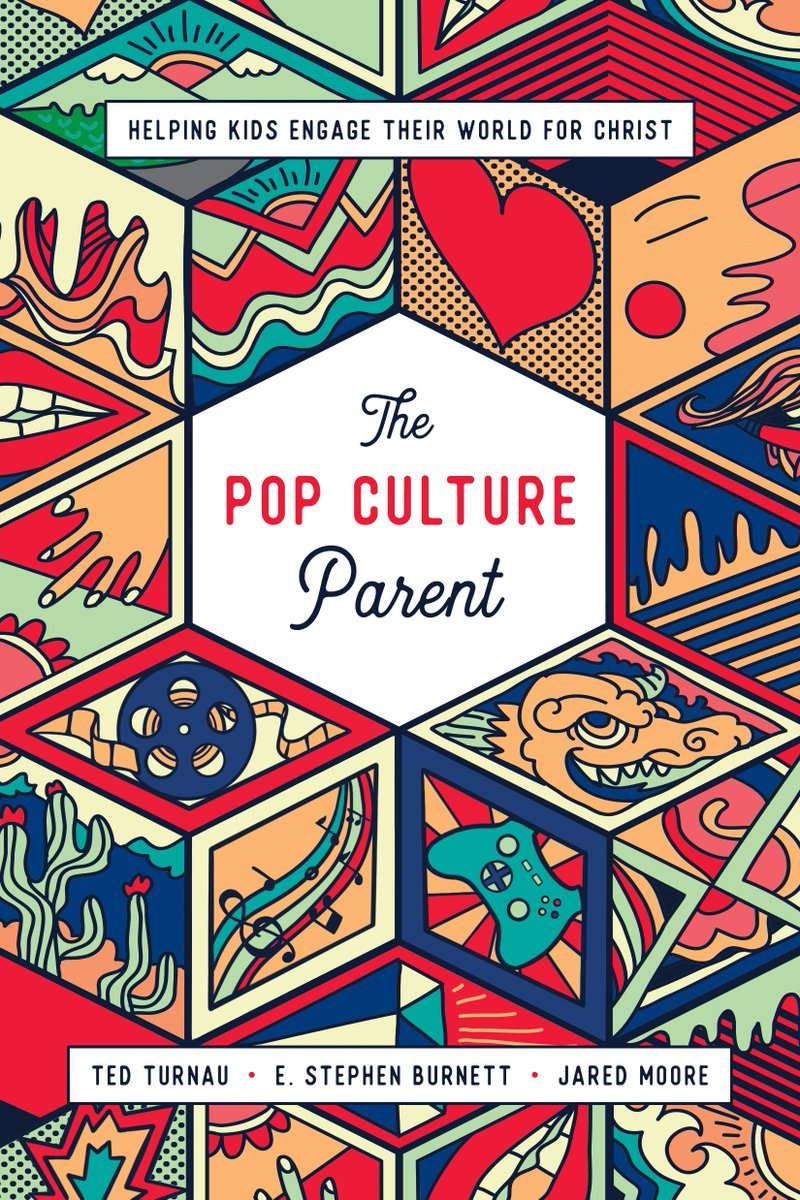 Chapter 1
Why We Need Pop Culture Parents

Popular culture lives everywhere. Stories, songs, shows, games, and images all flow into our eyes, ears, and imaginations. They come from television screens, books, and radio stations. Even more often, they're reaching us over our computers and mobile devices.
As a parent, you already live in this inevitable world of popular culture. So do your kids.
If you're on a family vacation and you pass something as simple as a billboard, that's a bit of popular culture. When your young child comes home from church talking about a TV show, or your teenage child shares photos on a new social-media app, that's even more popular culture. As the internet grows, this popular culture–filled world will become even larger for your kids. On the internet, movie fans of all ages share news and art about their favorite stories. Music fans download songs, video gamers swap tips on beating the most difficult levels. Book fans follow their favorite authors and order new volumes from retailers.
In fact, by reading this book, you're engaging in (Christian-made) popular culture yourself.
Popular culture is like the very air we breathe. We can take it in and give it out and not even think about it.
In this book, we define popular culture as human-created works that occupy common spaces, such as TV, the internet, music, and beyond. Popular culture is everywhere. We can't resist it or escape its influence.
Or can we?
Should Christians try to defend ourselves against popular culture, screening out its influence in our families? How many TV shows, movies, or games are too much for our kids? What about certain movies with violent or sexual content? Or is popular culture neutral? Is it "just entertainment" that is ultimately harmless as long as parents avoid legalism?
These questions have launched many discussions, books, and blog articles. We've read movie-review websites and picked up discernment resources. And from academic sorts of Christians, we've seen articles that promise to find the gospel or a redemptive theme in a popular movie franchise or streaming drama series.
All these can help Christians, but they haven't explored the most crucial need of all. As parents, we need to understand popular culture and parenting according to God's Word. Only then can we avoid both (1) fearing popular culture and (2) embracing it with little discernment. And only then can we apply this truth to our parenting and to the entertainments our children love. That way, we can best glorify God as we fulfill our incredible and biblical calling as parents.
That's why this book isn't only a "tips and tricks" guide for helping your kids handle specific types of popular culture. Instead, we created this book to give you a stronger and more biblical understanding of your calling as a parent and what popular culture has to do with it.
We will challenge several assumptions about kids, parents, and their relationships to popular culture. Once you understand these relationships, you will be better able to enter your children's favorite worlds—the popular culture they love—so you can lead and serve your children in fantastic, Christlike ways.

Ted's story: How I entered my children's favorite world
One day in 2006, my son came home from middle school absolutely excited. He told me, "Dad! Dad! You've got to watch this Japanese anime series with me! It's called One
Piece."
I asked him what the series was about.
"It's about a pirate named Monkey D. Luffy who wants to find a treasure called the One Piece and become king of the Pirates!"
Honestly, it sounded like the dumbest thing ever. I didn't jump in right away, but I noticed he was watching a lot of it and that he'd also gotten his younger sister involved.
Eventually I sat down with them to give it a try. After five or six episodes, I found that I liked the over-the-top, very stylized, and goofy visuals. I found the characters growing
on me. I developed an affection for this show that obviously meant a lot to my kids. They even went back and started from the beginning, so my wife and I could get the whole story from episode 1. One Piece has been part of our family life ever since (and it is still running).
Yes, the show includes some elements we don't agree with. We've often talked about the characters' moral choices. After all, they are pirates, even if they engage in little piracy! We've also explored the artists' decision to portray characters (especially women) in revealing attire. But we've delighted too in the story's deep excellence. One Piece includes signs of grace as well as idolatry, like most popular cultural works. And the stories have provoked many interesting and important conversations about all sorts of moral and spiritual topics. These conversations would have never occurred if we as parents hadn't decided to step into our children's world to share something that delighted them so.
A Pop Culture Parent's Basic Questions
This book is practical but perhaps not in the way you might expect. It isn't meant to feed you specific reviews and talking points about particular TV shows, movies, or games. Instead, we will give you clear examples of how to explore these stories, songs, and more for yourself, so you can sense how to help your kids do the same. This will prepare you to help your kids grow in the gospel as you train them to engage
their world for Jesus Christ. That way you can help your children better understand their life's purpose: to live as God-worshiping members of Christ's church who are called to love, serve, and teach our neighbors in the world that so desperately needs the gospel.
Our approach will often differ from some existing Christian materials. For example, some resources about Christian parenting and popular culture do not usually explore the big question, Why in God's world are people making and sharing all this culture in the first place? Other resources may respond to human stories and songs as if they're a hostile force—an enemy that's dangerous to a biblical worldview and the hearts of your children. Often such resources attempt to limit the damage of popular culture.
Still other books and articles may act as if only we as "professional" Christians should watch, listen to, or play popular cultural works—so we can better connect with our neighbors. Sometimes they reframe the gospel in terms of whatever is hot in popular culture. They may have titles like (we made these up) "The Gospel According to Yoda" or "Finding God in the DC Universe." These resources assume readers have grown to maturity and can resist the tempting lies and false worship of popular culture without too much trouble (if we need worry about its deception at all). But these materials do not usually address Christian parents or explore how parents can raise children from the training stage to biblical maturity.
This book takes a different path. In the chapters ahead, we will (1) define popular culture according to its original, biblical purpose in God's world; (2) review our special calling as gospel-centered parents; and (3) propose clear, practical, and biblical strategies to understand these stories, songs, and beyond, asking questions about each cultural work, so we can start guiding our kids to do the same. From there, we will (4) explore how to do this for children as they grow to maturity, providing three age-appropriate examples (from two popular movies and one video game). In this way, we hope to provide parents a way to enter their children's cultural worlds to talk, to enjoy, and to equip kids for reaching into their friends' cultural worlds.
As this book's authors, we've spent lifetimes wrestling with these challenges of human stories and songs, particularly in light of the gospel, and relating to our families: As a teacher and parent, Ted Turnau has trained to enter the worlds of anime, television drama, and video games with his three (now-adult) children. Ted and his wife, Carolyn,
have spent years in ministry in Europe. They have also often hosted university students at their home to explore the grace-filled moments and idols in popular movies and songs.
As a storyteller, E. Stephen Burnett is just beginning his parenting journey. He has spent years not only creating stories but reviewing popular movies and other fantastical stories from a Christian perspective. Stephen and his wife, Lacy, are now facing these cultural challenges with the foster children to whom they have been called to minister.
And as a pastor, Jared Moore brings a uniquely pastoral and parental view to this topic. He and his wife, Amber, are raising four children. Despite their busy lives of church ministry, parenting, and teaching, Jared has a special interest in finding helpful ways to introduce young children to popular culture and train them to explore each story's graces and idols.
Welcome to Our Post-Christian World
We especially need this training in the post-Christian culture our children will inherit. As Christians we find ourselves living among neighbors who show less interest in our faith than ever before. Between 2007 and 2014, the number of Americans claiming no religious affiliation jumped from 16 percent to 23 percent. In the UK, recent statistics show the religiously unaffiliated have grown to more than half the population. In the rest of Europe, the statistics are worse, not better.
Not surprisingly, this secularization leads to deep chasms of distrust between Christians and non-Christians, some of whom openly distain biblical Christianity. On Twitter, a Christian author remarked that she was rejected by multiple publishing houses when they learned she was Christian. On university campuses, Christian groups have been denied access to college facilities because they affirm biblical sexual values. Many non-Christians say they believe Christians (particularly evangelicals) are bigoted, intolerant, greedy, anti-intellectual, anti-science killjoys.
Our Children Are Like Sheep Sent Out to Raid the Wolves
This is why many Christian parents feel that exposing their kids to any popular culture will also expose them to many evils: unbiblical worldviews, sexual imagery, exploitative violence, and ideas designed to undermine the family and undermine their children's faith. As parents, we may fear that these wolves will prey on the little lambs under our protection. We may feel we must constantly beat back the wolves. Or we might try to ignore these threats, just teach and live out the gospel, and hope our children will learn to stay true to Jesus despite the wolves.
Jesus had quite a different response to a hostile culture: "Behold, I am sending you out as sheep in the midst of wolves, so be wise as serpents and innocent as doves" (Matthew 10:16). Jesus intentionally sent his disciples into wolfish territory to heal and bring good news. Jesus also prayed for his disciples in John 17:18: "Just as you sent me into the world, I am sending them into the world" (NLT). Jesus's response to a hostile world was not to withdraw in self-protection but to serve as a missionary and train his disciples to do the same. In Jesus's mind, the sheep aren't victims; they're the raiding party.
The famous preacher Charles Spurgeon put it this way: "The wolf leaps into the midst of a flock and rips and tears on every side. It matters not how many the sheep may be, for one wolf is more than a match for a thousand sheep. But lo, here you see sheep sent forth among the wolves, as if they were the attacking party and were bent upon putting down their terrible enemies! It is a novel sight, such as nature can nevershow, but grace is full of marvels!"
Do we have this confidence? Can we train our children to be fully committed to the gospel in dovelike simplicity while also being wise as serpents, familiar with the ways of their neighbors' culture? We believe that as God's people, working out the gospel, we can.
To be sure, all these shows, movies, games, and songs that reflect the cultures of our lands often appear like terrifying wolves. But in Christ, we need not fear them. If we are willing to engage this world with our children, using God's gifts—his Spirit, his Word, and his church—we can equip our children to grow into this maturity. The mission Jesus gave his disciples is our mission today, and it also belongs to our children. If we wish to train our children for a disciple's life beyond the shelter we provide, we should start now. You can teach your children wisdom to prepare them for a lifetime of wolf-wrangling.
Our Children Themselves Have Wolfish Hearts
To complicate the sheep-versus-wolves picture, we must also recall that our kids aren't simply sheep. Our reality is messier: the "wolves" also already live inside our children.
Jesus affirms this in Mark 7. He explains why he rebuked the Pharisees after they chided his disciples for ignoring ritual purity codes. Jesus outright condemned these religious leaders' habit of believing that external objects, such as the wrong kinds of foods, spiritually defile us. Jesus says our disordered hearts are the real problem:
"There is nothing outside a person that by going into him can defile him, but the things that come out of a person are what defile him. . . . Do you not see that whatever goes into a person from outside cannot defile him, since it enters not his heart but his stomach, and is expelled?" (Thus he declared all foods clean.) And he said, "What comes out of a person is what defiles him. For from within, out of the heart of man, come evil thoughts, sexual immorality, theft, murder, adultery, coveting, wickedness, deceit, sensuality, envy, slander, pride, foolishness. All these evil things come from within, and they defile a person. (Mark 7:15, 18b–23)
By understanding that the heart is a well, poisoned at its source, Jesus cut to the chase: don't get hung up on externals, but look to the state of your own heart. No one catches sin, like a contagion, from outside influences such as food, or even popular culture. Rather, the idols within our hearts already threaten to defile us and our children.
Even if we could create a popular-culture-free bubble for our children, we could not secure their spiritual safety. Children take the evil within them wherever they go. Yes, popular culture can entice hearts, hook into our idols, and tempt us away from God's purpose. If that is so, and we are called into the world by Jesus, our path is clear. Instead of keeping our children ignorant, we learn to gauge their level of maturity and guide them to further maturity as we intentionally train them to discern idols—the ways culture entices us to serve and worship that which is not God. We teach our children how the gospel outshines the fool's gold offered by the idols!
Otherwise, once children leave home, they will be unprepared and might be blindsided by temptation. Plus, if they were raised disconnected from culture, they will likely prove to be poor ambassadors, unfamiliar with the mind-set of the neighbors they are trying to reach.
We want to help you teach your children how to refuse heart-seducing idolatry and answer this temptation with the greater beauty and power of the gospel. When we form and guide our children's heart affections in the very midst of our surrounding culture, they can learn how to be wise as serpents and single-hearted (not simple-minded) as doves.
Popular Culture Is a Messy Mixture of Idols and Common Grace
As we recognize our children's sinful heart issues, we also need to affirm the good things God has left in human stories, songs, games, and more. Theologians call these good things common grace. This refers to the gifts God gives to people in the world, even if they never believe in him. We find this concept based in several biblical texts. In Matthew 5:43–48, Jesus teaches about love for enemies by talking about how the Father gives rain and sunshine even to his enemies. In Acts 14:15–17, Paul points the people of Lystra to the blessings around them, such as rain and crops, "satisfying your hearts with food and gladness." These, Paul says, are witnesses to God's goodness and generosity. The principle behind Paul's saying is this: anything that gives human hearts joy is ultimately a gift from God. Such gifts give witness to the beauty, love, and power of the Father. Popular culture offers a dazzling collection of these gifts.
In the following chapters, we will explore how Christian parents can search for common grace in popular culture. We'll also explore how parents can teach their kids to disentangle these good things from the real idols that also inhabit stories and songs and beyond. Even better, we'll learn how we can start to answer these human longings—which no other story or song can ever truly fulfill—with the promises found in Jesus alone.
God Made Kids, and All of Us, to Share in Culture
At this point, you may still have concerns about engaging popular culture with your children. Isn't being a pop culture parent simply optional? Don't you have more important things to teach your children, such as biblical worldviews, apologetics, or career readiness?
Later we will answer these concerns in more detail. For now, we'll provide the main reason cultural engagement is a vital part of our parental calling. This "impossible" mission—which we must choose to accept—is a way to glorify God by enjoying him forever through his gifts. We do this in three ways: by worshiping and enjoying personal relationships with God through Jesus by the Holy Spirit, by reflecting his grace in relationship with our children and other Christians, and by letting that grace shine to those who need to know God—that is, bringing his gospel to our friends and neighbors. We can't do any of this apart from making and engaging culture.
1. God made us to worship him through culture.
As human beings, we've been created in God's image. God has made us to be creative. He called Adam and Eve to create culture, even as he called them to fill the earth with children (see Genesis 1:28). Of course, sin has since entered the world, warping our culture making. But even now, we find goodness reflected in culture because it is created by people made in the image of their Creator. Humans may bend and distort and even deny God's image, but we cannot erase it. Nor can we avoid reflecting the beauty, love, power, and awesomeness of God in the culture we create. Popular culture is not popular because people are lazy, ignorant, and wicked. It is popular because our works include awesomeness that reflects our awesome Creator and Redeemer. People hunger for that grace without knowing quite what it is they truly hunger for. Popular culture is popular precisely because of the grace to be found in it, however distorted. We and our children can find this grace if we are willing to look for it.
True, these reflections of grace are twisted by sin. But even then, we can train our children to expose these false gospels by comparing them with Jesus. In the light of his glory and grace, idols will grow strangely dim as the true gospel light shines in our imaginations.
Whether a popular entertainment reflects grace or reflects idolatry—either way—we and our children can respond by exploring the gospel more clearly. We can actually catch glimpses of God's glory through popular cultural works.
2. God made us to enjoy healthy relationships through culture.
Whatever we do, our children will grow to love culture and entertainments of some kind. As they mature, they'll also become nostalgic for their favorites—not only from their family home but their cultural home. If we as parents make the effort to enter into this world, we will find that over time we can build healthy relationships and deep communication with our children. We and our children will have the same cultural landmarks. We'll get the same references and share inside jokes. And we'll have the memories of discovering imagined lands together, comparing their graces and idols with the gospel, and glorifying God as we've enjoyed the creations of humans made in his image.
This is precisely what Jesus did. When he wanted to rebuild the ruined relationship between him and us, he entered our territory to live with us. Popular culture gives
us the same chance. We can enter into our children's worlds, look through their eyes, and discover what they see as awesome and worthy. Engaging popular culture with our kids builds the kind of relationships needed to discuss the deep and serious challenges of life.
We also have relationships that extend beyond our families. Christians belong to churches. The local church is called to disciple saints as the gathered people of God. Churches can be an excellent resource for guidance in engaging culture together. We can be "iron sharpening iron" for one another if we are willing to engage together. In this way, the church as a whole grows in wisdom.
But apart from the church's labor, enjoying popular culture should be part of our patterns of collective rest. We glorify God in our work (our own jobs and the church's mission) but also in our recreation. Enjoying popular culture is part of our rest together. It has always been so for the people of God. Both Old and New Testaments include many examples of bountiful celebrations. No God-exalting party brimming with rest, happiness, and feasts is complete without popular culture. We were meant to share stories, songs, games, and other popular cultural works, whether spoken around a campfire or shared on a smartphone.
3. God made us to take his gospel to a world that needs him.
As we engage culture together, we become equipped as ambassadors to our culture (2 Corinthians 5:20). Christians call this the Great Commission, the command Jesus gave his followers: "All authority in heaven and on earth has been given to me. Go therefore and make disciples of all nations, baptizing them in the name of the Father and of the Son and of the Holy Spirit, teaching them to observe all that I have commanded you. And behold, I am with you always, to the end of the age" (Matthew 28:18–20).
As sons and daughters of the King, our Great Commission is to serve as ambassadors of Jesus to people around us. Wise ambassadors get to know the culture of their host country, studying the heart and soul of the people they are trying to reach. Our homes should become extensions of our churches—Kingdom embassies. These are our mission headquarters. We should be intentional about enjoying popular culture in the home. We don't only recreate and enjoy stories together as families. We also engage popular culture to train for our God-given mission in the world.
As we engage our world's favorite stories, songs, and games, we become familiar with our neighbors' cultural categories. We grow to discern their desires, hopes, dreams, and fears, finding natural doorways into their worlds. So, as we worship God by sharing in acts of creation and build relationships with our children and others in the church, we're also training for Christ's mission to the whole world: to love non-Christians wisely, speak into their lives winsomely, and serve them by bringing healing into their lives.
Training our kids for this mission—that's the challenge and privilege of Christian parents. In your hands, that challenge of popular culture can become a natural ally in this calling.
Your Mission: Become a Pop Culture Parent for God's Glory and Your Kids' Growth
We write mainly for Christian parents who want to apply the gospel to every part of their parenting, including the swarm of popular culture works that literally whiz about us using invisible signals every day. But we aim to provide tools not for only parents but also grandparents, child and youth workers, teachers, friends, older brothers and sisters, aunts and uncles, coaches, or anyone who invests in the lives of the kids around them.
We prayerfully hope this book will equip you to engage popular culture with your kids. And we pray that with this book you will gain a deeper appreciation for the awesomeness of the gospel of grace, and our awesome Creator and Savior who provides grace for us, by enjoying the awesomeness of popular culture. We were made for delight, and we would love for you to be able to share that with your children!
By now, we hope you're eager. You're ready to watch Frozen with your kids, enjoy that story of Anna's seeking and sacrificial love for Elsa, and connect it to our longing and need for the seeking and sacrificial love of Jesus—all while you also expose the idol of authentic self in the song "Let It Go." Well, we love that you're eager. And we're going to get to all of that and much more. But the process of doing it really well, so that you become a highly skilled pop culture parent who can do it for yourself with any movie or song or game, takes longer than just jumping to the answers. There is groundwork to build: We must understand culture. We must rejoice in the gospel. We must embrace our role as parents and know our children. We must respect the movie itself enough to describe it well before leaping to conclusions. And yes, in the end, we will then understand Frozen like never before.
All of that wonderful journey lies ahead. To start down this path of helping our kids engage their world for Christ, in the next chapter we will learn why on earth God made people to make all these popular-culture works in the first place.